This is a fully human monoclonal antibody against insulin-like growth factor 1 receptor (IGF-1R), which is overexpressed in orbital fibroblasts.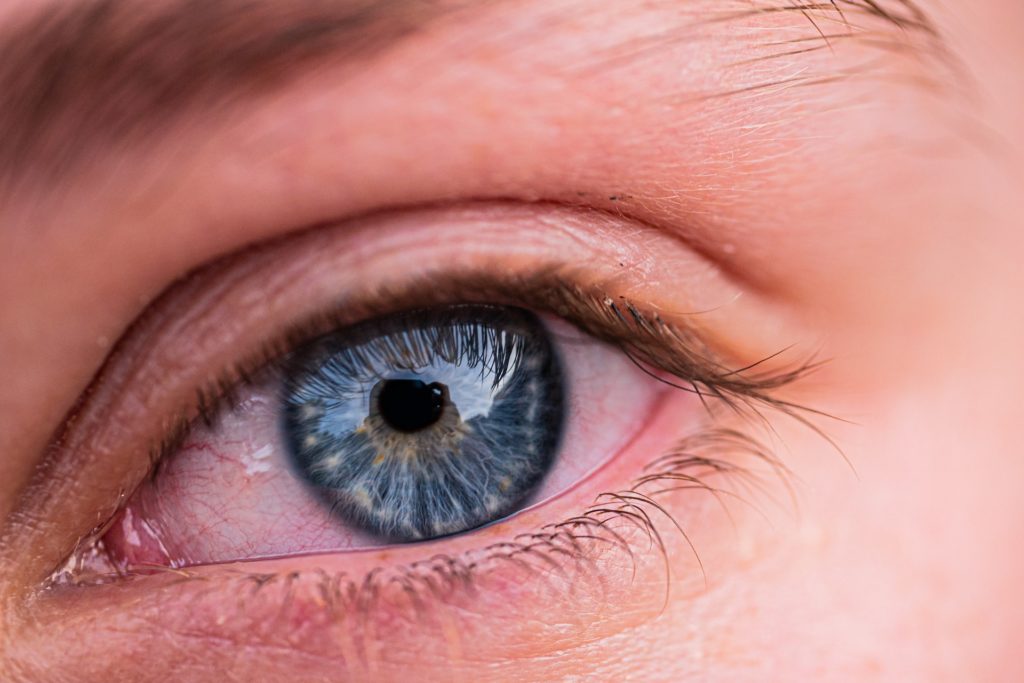 Thyroid eye disease manifests as part of Graves' disease, which is an autoimmune disorder that results in hyperthyroidism.
Graves' disease is an autoimmune disorder that results in hyperthyroidism. Patients with Graves' disease, which is more common in women, have systemic symptoms such as fine tremors, anxiety, irritability, weight loss despite normal eating habits, changes in menstrual cycles, reduced libido, and bulging eyes (proptosis).
This last symptom is a sign of Graves' ophthalmopathy, which can also include periorbital inflammation, retrobulbar pain and double vision (diplopia). Even if inflammation persists, the bulging eyes (proptosis) and and double vision can be chronic.
The pathogenesis of thyroid eye disease is not yet completely understood. However, it has been found that there is an overexpression and activation of insulin-like growth factor 1 receptor (IGF-1R) in orbital fibroblasts of patients with thyroid eye disease. This can lead to inflammation and the accumulation of hydrophilic mucopolysaccharides in orbital tissue, causing eye swelling.
Teprotumumab is a fully human monoclonal antibody that is inhibitory to IGF-1R. Phase 2 and 3 clinical trials using this antibody has shown that there was significant improved in proptosis, diplopia, and inflammation in patients with moderate to severe thyroid eye disease. Treatment was done with 8 infusions of teprotumumab over 24 weeks.
Despite this, there were still some questions, about how patients respond after 24 weeks and the treatment effect in patients with exacerbations and longer persistence of thyroid eye disease. To investigate further, patients from Phase 3 of the previous clinical trial (OPTIC) were included for further study. These included those who received placebo (37 patients) and teprotumumab (14 patients). These were also those who did not respond initially or those who had disease flares, and they were retreated with teprotumumab with 8 infusions over 24 weeks.
Results showed that of the 37 placebo-treated OPTIC patients, 33 responded to the drug. In these responders, proptosis and diplopia were maintained in approximately 90% of patients even 48 weeks after treatment. Of the 8 patients who had flares of thyroid eye diseases, 5 (62.5%) responded when retreated. In addition, no new adverse events were reported compared to previous trials, although mild hearing impairment was reported in a total of 6 events.
Some of the limitations in this study is the open-label design, which may have influenced the patients' response to questionnaires. In addition, this aspect of the study has a smaller sample size. Further studies on the effect of teprotumumab on chronic thyroid eye disease should also further be investigated.
In conclusion, this study showed that patients who have been suffering from chronic thyroid eye disease may benefit with treatment by this monoclonal antibody IGF-1R. The next phase would be additional post-marketing pharmacovigilance, which the authors of the study say is presently ongoing.
Douglas, R. S., Kahaly, G. J., Ugradar, S., Elflein, H., Ponto, K. A., Fowler, B. T., Dailey, R., Harris, G. J., Schiffman, J., Tang, R., Wester, S., Jain, A. P., Marcocci, C., Marinò, M., Antonelli, A., Eckstein, A., Führer-Sakel, D., Salvi, M., Sile, S., … Smith, T. J. (2022). Teprotumumab efficacy, safety, and durability in longer-duration thyroid eye disease and re-treatment. Ophthalmology, 129(4), 438–449. https://doi.org/10.1016/j.ophtha.2021.10.017