This phytosterol was investigated as a possible candidate drug for Graves' ophthalmopathy.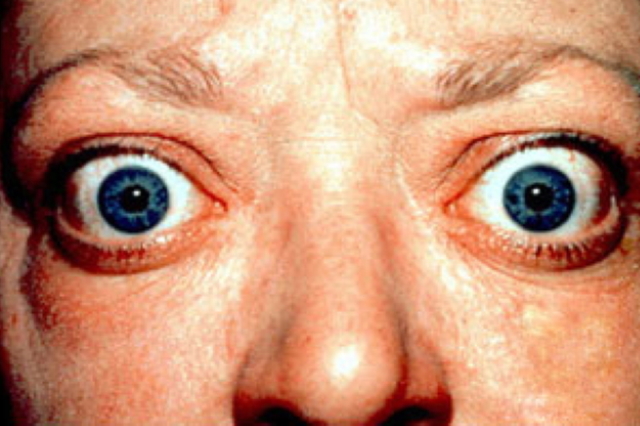 Patients with Graves' ophthalmopathy present with lid retraction and proptosis, as well as possibly diplopia. Source via CC-BY-3.0.
Graves' hyperthyroidism is an autoimmune disease that can result in orbitopathy, manifesting as eye pain and discomfort, eyelid retraction, ocular protrusion, and periorbital edema. The underlying mechanism is the infiltration of inflammatory cells, accumulation of hyaluronan, and adipogenesis.
Graves' orbitopathy (GO) can be difficult to manage, although the primary treatment option is the use of high-dose glucocorticosteroids. However, the use of this medication is limited by its side effect, such as diabetes, hypertension, susceptibility to infection, and adrenal insufficiency. Also, glucocorticosteroids do not treat eye symptoms of proptosis, eyelid edema, and diplopia, in most of the patients affected.
In this study, the phytosterol guggulsterone (GS) was evaluated for its effect on primary cultures of orbital fibroblasts from GO patients. Guggulsterone comes from gum resin and has been used as an herbal medicine for atherosclerosis, hyperlipidemia, obesity, and cancer. Fibroblasts were cultured in adipogenesis medium and were treated with inflammatory cytokines, after which these were treated by GS.
Results showed that noncytotoxic concentrations of GS inhibited the production of inflammatory cytokines. The amount of hyaluronan also decreased with GS treatment, as well as the expression of markers in adipogenesis.
As this is the first in vitro study showing the effect of GS on cells affected by GO, in vivo preclinical models and clinical studies are necessary.
Kim, B., Kim, J., Lee, J., Lee, E., & Yoon, J. (2020). Therapeutic Effect of Guggulsterone in Primary Cultured Orbital Fibroblasts Obtained From Patients with Graves' Orbitopathy. Investigative Ophthalmology & Visual Science, 61(3), 39. https://doi.org/10.1167/iovs.61.3.39