Used for attention deficit-hyperactivity disorder (ADHD) and narcolepsy, the drug has also shown potential use in eliminating some cognitive artifacts that may lead to misinterpretation of visual field results and unnecessary workup.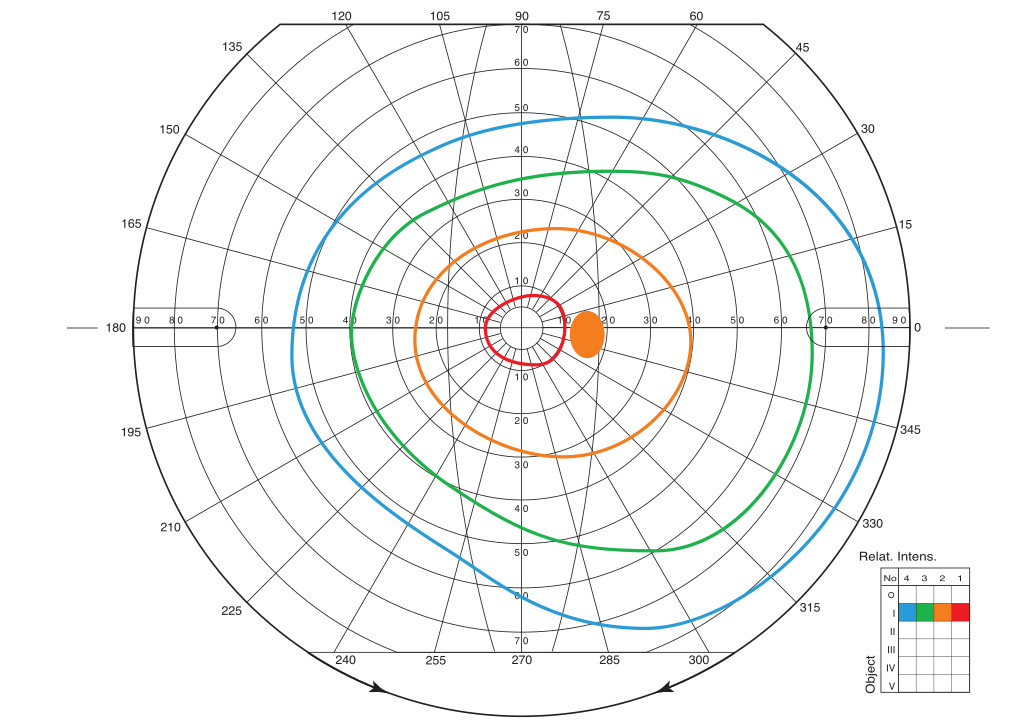 What a Goldmann visual perimetry looks like. The methods of evaluating visual fields in patients can be time-consuming and require massive focus and concentration on their part. (Image Source)
Visual field testing is an important diagnostic examination in ophthalmology, used to evaluate patients for glaucoma and retinal disorders. However, present methods of testing visual fields can be tedious, as they require great participation by the patient. It may be difficult for the patient to cooperate, as the test can be long, necessitates attention and a quick response, and has a learning curve. Other factors that impact visual field testing are fatigue, anxiety, and physical factors like lid alignment and refractive error. For this reason, baseline tests are always established, to which subsequent examinations are compared.
Even as visual field results have parameters for reliability, poor results on testing that do not correlate with the ophthalmic history clinical examination results in a lot of stress for the patient and unnecessary extra testing, imaging, and consultations. These cause an increased economic burden on the healthcare system. However, a previous study in pediatric patients with ADHD showed that administration of a single dose of methylphenidate resulted in better perimetry testing performance.
Methylphenidate (trade name: Ritalin) is presently used as treatment for attention-deficit hyperactivity disorder (ADHD) and narcolepsy. It is a central nervous system stimulant thought to exert its effect by inhibiting the reuptake of neuronal norepinephrine and dopamine, thereby increasing the availability of these neurotransmitters. An immediate-release version of the drug is available, with effects lasting up to 4 hours. Despite the adverse effects of methylphenidate, such as insomnia and anxiety, the drug is increasingly becoming used for increased cognitive function. Previous studies have reported better memory, processing speed, attention, and motivation even after a single dose.
In this prospective, randomized, controlled, interventional clinical trial, patients were recruited and divided into a study group or a control group. These patients all had abnormal visual field results but had normal eye examination and ophthalmic history, and all had to repeat their visual field testing. However, the patients in the study group had been given a single dose of 10 mg of methylphenidate prior to the second visual field testing.
Results showed that administration of methylphenidae resulted in greater improvement of all visual field parameters, although the mean deviation was not statistically significant, while changes in the pattern standard deviation were significant between groups. This is likely due to the greater variability in mean deviation in the normal population due to the effect of many factors (e.g. cataract density). However, the pattern standard deviation index is more specific of posterior segment disease, which is important clinically when using visual field testing as a diagnostic measure. In addition, data reviewed by masked ophthalmologists indicated improvement in the second visual field in the group that took methylphenidate, and a subgroup analysis of patients that already have previous experience in taking this type of test had a greater improvement with drug intake.
Some limitations of the study, as stated by the researchers, include the lack of a placebo arm, a small sample size, and the inclusion of different types of visual field tests in the study.
Regardless, the data collectively suggests that a single low dose of methylphenidate can improve visual field testing in patients with no demonstrable ocular pathology, thus helping saving them from further psychological and financial burdens with extraneous workup and consultations.
Sternfeld, A., Bialer, O., Keidar, D., Megiddo, E., Budnik, I., Stiebel-Kalish, H., & Livnat, T. (2020). A Single Low-Dose of Methylphenidate Improves Abnormal Visual Field Testing. Current Eye Research, 1-8. doi: 10.1080/02713683.2020.1858430