Choroidal angiography findings on follow-up can help predict CSC occurrence in the contralateral eye.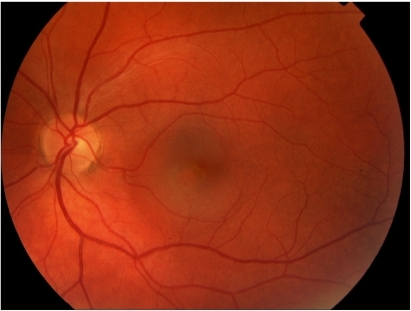 Fundus image of the left eye with central serous retinopathy, retinal epithelium changes, and subretinal fluid. (Image from Gregory DL, Jones, CD, Denton ER, and Harnett AN, 2008, Clin Med Oncol, 2008 (2);37-42. Source via CC by 3.0.).
Central serous chorioretinopathy (CSC) is characterized by serious retinal detachment (SRD) in association with fluorescein leakage, RPE changes, and increased choroidal thickness. It usually presents unilaterally in middle-aged individuals. However, diagnostic studies have shown that changes are also present in the fellow eye, in the form of small extrafoveal SRDs, pachychoroidal pigment epitheliopathy, vascular choroidal hyperpermeability and increased choroidal thickness.
The objective of this study was to investigate the risk factors predicting the onset of SRD in the fellow eye of patients who had previously presented with CSC. Using a retrospective study design, the chart records of consecutive patients with CSC were reviewed. Additional inclusion criteria were the availability of late-phase indocyanine green angiography (ICGA) at baseline and a follow-up period of more than 3 months for the other eye.
Results showed that 19% of the fellow eyes of patients with CSC developed an SRD within the average 25.8 months of follow-up. The most significant factor discovered that could predict the incidence of CSC was the presence of hyperfluorescent choroidal plaques seen on midphase ICGA.
Other significant factors identified were the hypofluorescent foci on late-phase ICGA, and RPE changes observed on fluorescein angiography and fundus autofluorescence. This study did not find choroidal thickness as a risk factor of SRD, although there was note of increased subfoveal choroidal thickness in the fellow eyes of patients with CSC.
To prevent occurrence in the other eye, it is therefore recommended that patients with CSC be on regular follow-up wit multimodal imaging.
Shinojima, A., Mehanna, C., Lavia, C., Gaudric, A., Tadayoni, R., & Bousquet, E. (2019). Central serous chorioretinopathy: risk factors for serous retinal detachment in fellow eyes. British Journal of Ophthalmology. doi: 10.1136/bjophthalmol-2019-314970