In patients with thin corneas and keratoconus, this treatment is effective in halting thinning and in improving vision and astigmatism.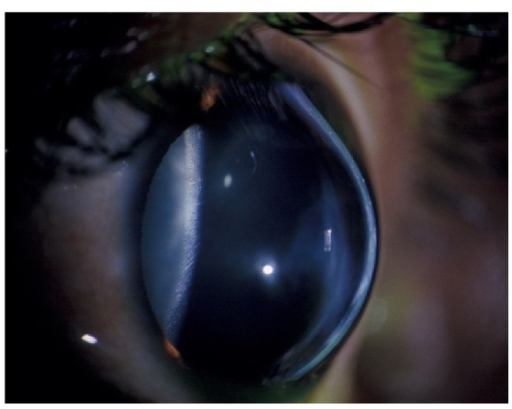 The eye of a keratoconus patient. (Source: Khaled et al, 2017)
Keratoconus is a progressive eye disease wherein the cornea thins and bows outwards. This irregular shape causes blurred vision and astigmatism; scarring may occur in severe cases.
Corneal cross-linking is a mainstay of keratoconus treatment. However, for patients with thinner corneas (≤400 microns after removal of the epithelium), the technique contact lens-assisted cross-linking (CACXL) has been developed.
In this retrospective study, the chart records of the 24 qualified patients who underwent accelerated CACXL (A-CACXL) were reviewed. Corrected and uncorrected distance visual acuity, corneal thickness, and keratometry were recorded.
At around 12 months of follow-up, there was note of significant improvement in the uncorrected visual acuity, maximum keratometry, and anterior and posterior astigmatism. Moreover, there was no progression in the thinning of the corneas in 80% of patients. Flattening was observed in 45.% of the cases, and there were no serious adverse events, specifically reductions in endothelial cell density.
The study therefore concluded that in patients with thin corneas and keratoconus, A-CACXL is an effective intervention that may be useful in preventing more invasive treatments (e.g. transplants).
Knyazer, B., Kormas, R., Chorny, A., Lifshitz, T., Achiron, A. and Mimouni, M. (2019). Corneal Cross-linking in Thin Corneas: 1-Year Results of Accelerated Contact Lens–Assisted Treatment of Keratoconus. Journal of Refractive Surgery, 35(10), pp.642-648.