Assays of inflammatory mediators show increased levels of matrix metalloproteinases with daily use of scleral lenses.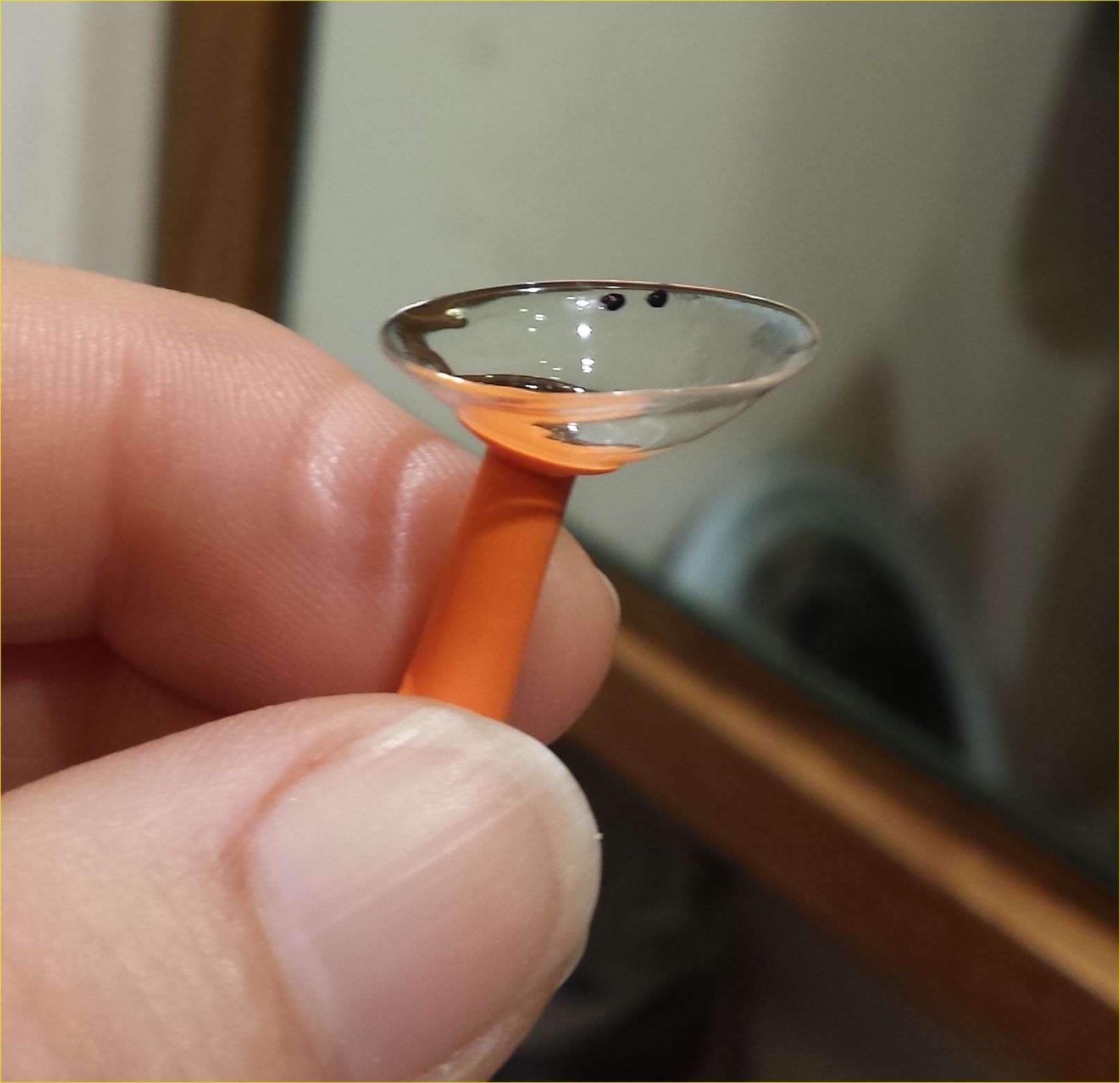 A scleral lens on a removal plunger. CC BY SA 3.0. (Source)
Scleral lenses are made of gas-permeable plastics and used for patients with corneal disease such as keratoconus, severe dry eyes (whether primary or secondary to other diseases). It is able to offer comfort and visual stability to the eyes.
When the scleral lens rests over the cornea, because of its thickness, there exists a fluid reservoir between the two surfaces. The reservoir comes from the saline solution used during application of the scleral lens. This is estimated to have a volume of 200-400 μL and does not interact with the tear environment. Hence, there is no replacement of tear factors, and it has been suggested that some complications that occur with SL wear are related to the stagnancy of the fluid reservoir.
The goal therefore of this study was to evaluate the level of interleukins and matrix metalloproteinases (MMPs), which are markers of inflammation, in the fluid reservoir in patients who are wearing scleral contact lenses.
This was a prospective clinical study with 15 patients, who normally wore soft contact lenses and were fitted with sclera lenses. Ocular samples (basal surface tears and fluid reservoir) were collected after 8 hours and after 4 days of wear. These were analyzed for MMP-7, MMP-9, MMP-10, and IL-4 and IL-8 via Luminex assays.
Results showed that MMP-9 and MMP-10 were greater in the fluid reservoir than on the surface. Levels of these MMPs were significantly increased at the two time points analyzed. MMP-7 remained unchanged throughout the study. IL-4 and IL-8 levels were increased, although not significantly, at both time points. The fluid reservoir was observed to more closely resemble tears in the morning, likely due to decreased exchange during overnight sleep.
Other clinical factors, such as visual acuity, corneal staining, and conjunctival staining, remained unaltered. However, comfort was reduced when wearing scleral lenses, when patients compared it to previous soft contact lens wear.
In conclusion, there is an increase of MMPs in the fluid reservoir in patients with daily scleral lens wear. This may be associated, over time, with complications of the ocular surface, especially in diseased eyes.
Walker, M., Lema, C., & Redfern, R. (2020). Scleral lens wear: Measuring inflammation in the fluid reservoir. Contact Lens And Anterior Eye. https://doi.org/10.1016/j.clae.2020.02.017