The male gender and gain of chromosome 8q are the only significant independent predictive prognostic factors five years after enucleation.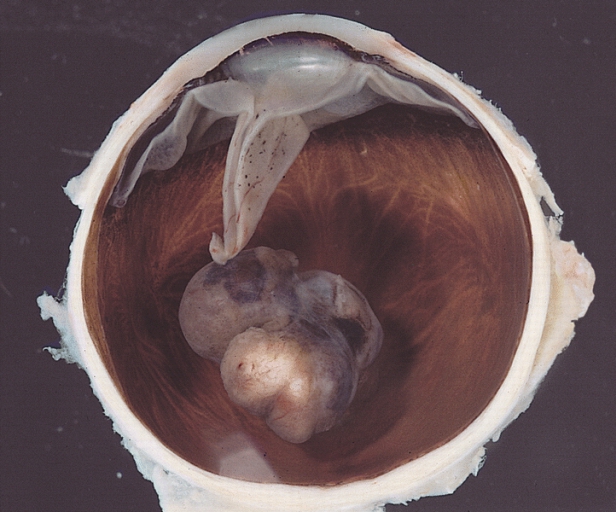 A gross specimen of the eye showing a malignant choroidal melanoma, which was treated by enucleation.
Uveal melanoma (UM) is the most common type of primary intraocular malignancy in adults. It can spread hematogenously, and the liver is the primary metastatic site. Metastases is the most common cause of mortality; the median survival time after diagnosis of widespread disease is from 4 to 15 months.
There are certain factors that predict metastasis, such as the largest basal diameter of the tumor, ciliary body involvement, extraocular growth, mitotic count, tumor cell type, and extravascular matrix loops. Chromosomal alterations (monosomy 3 and gain of 8q), as well as mutations in BAP1, EIF1AX, and SF3B1, have also been associated with metastasis.
Most existing studies on prognostic factors report on early death. This study hypothesized that there is a shift in prognostic factors in patients with melanoma who survive the first 5 years. A retrospective analysis was then conducted in 583 patients with primary UM who were enucleated at the Leiden University MEdical Center from 1983 to 2013. Univariable and multivariable Cox regression analyses were done for all of the patients and for those who survived more than 5 years.
The data showed that, for all patients, the median age was 62.6 years and that the median tumor diameter was 12.0 mm. There was monosomy 3 and gain of 8q in 53% and 47% of patients, respectively. Meanwhile, patients who survived after 5 years had a median age of 59.5 years and a median tumor diameter of 11.0 mm. There was monosomy 3 and gain of 8q in a lower percentage of cases: 33% and 31%, respectively.
In the whole cohort, the following factors were independently associated with UM-related death: male gender, tumor diameter, mitotic count, extravascular matrix loops, extraocular growth, and gain of 8q. In the second cohort of patients who survived 5 years after enucleation, using multivariable analysis, only the male gender and gain of 8q were significant.
The authors stated the following limitations of the study: (1) the restriction of patients who only have undergone enucleation and not eye-preserving treatment; (2) that chromosomal analysis was done via karyotyping and fluorescence in-situ hybridization (FISH), which are less sensitive than single nucleotide polymorphism (SNP)-based copy number determination; and (3) the lead-time bias, in which larger tumors have a shorter survival due to late detection.
Dogrusöz, M., Brouwer, N., de Geus, S., Ly, L., Böhringer, S., & van Duinen, S. et al. (2020). Prognostic Factors Five Years After Enucleation for Uveal Melanoma. Investigative Ophthalmology & Visual Science, 61(3), 31. https://doi.org/10.1167/iovs.61.3.31