A limbal surgical approach is also associated with greater functional visual acuity.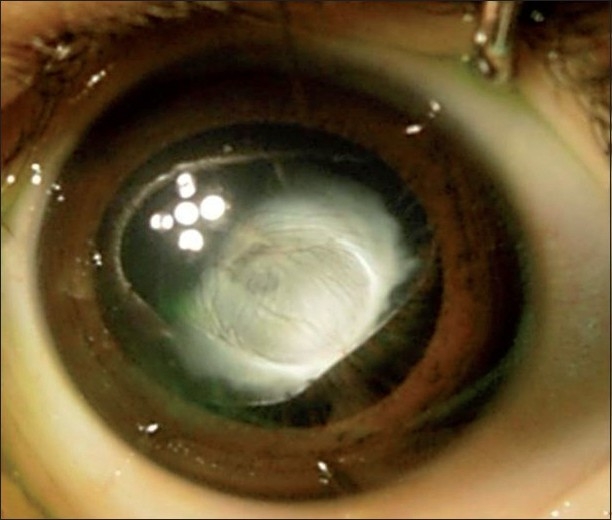 Leukocoria in a pediatric patient with anterior persistent fetal vasculature. (Taken from Hanumanthappa, 2010.)
Persistent fetal vasculature (PFV) is an congenital ocular disease in infancy that results from the failure of the vascular structures to regress before the baby is at term (40 weeks). The fetal vasculature in the eye is composed of the tunica vasculosa lentis, which surrounds the lens, and the hyaloidal systm, which extends to the back of the eye. Also known as persistent hyperplastic primary vitreous (PHPV), it is usually unilateral and presents with leukocoria.
"Characteristic features include a:
White vascularized lental tissue
Centrally dragged retinal processes
Retinal detachment
Macular hypoplasia
Optic disc hypoplasia or dysplasia
Microphthalmos."
The prognosis of the patient depends on which part of the PFV is affected; eyes with anterior PFV fare better. Surgical treatment usually aims to clear the pupillary area for central vision and to prevent amblyopia.
In this retrospective study, charts over the last 20 years were reviewed to assess the surgical outcomes of eyes with PFV. Given the inclusion criteria, the clinical course of 58 patients were analyzed. The mean age at surgery was at 2.1 ± 1.5 years of age, with the mean followup at 6.7 ± 4.2 years. At the end of follow-up, 33% of the eyes (19 eyes) had a visual acuity better than 1.0 logMAR. There were adverse events reported, such as glaucoma and retina detachments, in patients who had pars plana or pars plicata incisions. Those who had undergone limbal incisions had a better visual acuity than 1.0 logMAR.
This study thus concluded that early surgery for PFV and a limbal approach is associated with a more functional visual acuity.
Bata, B., Chiu, H., Mireskandari, K., Ali, A., Lam, W., & Wan, M. (2019). Long-term visual and anatomic outcomes following early surgery for persistent fetal vasculature: a single-center, 20-year review. Journal of American Association for Pediatric Ophthalmology and Strabismus. doi: 10.1016/j.jaapos.2019.07.009