Its effects on this retinal layer may be the reason why there is limited visual recovery even after surgical success.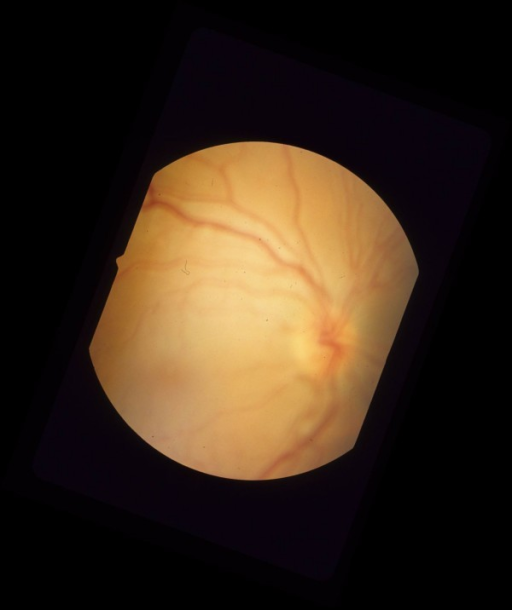 An image of the eye with a macula-off rhegmatogenous retinal detachment due to a necrotic retinal hole. (Alasil et al., 2008. Source)
Retinal detachment can be one of the rare emergencies in ophthalmology, particularly if the macula is still on. and must be managed in a timely manner to preserve vision. One of the treatment options in rhegmatogenous retinal detachments (RRD) is pars plana vitrectomy (PPV) and silicone oil endotamponade.
Silicone oil is a linear polymer and is one of the options for a tamponade, which helps flatten the retina as it heals. However, despite good anatomical success after surgery, visual recovery remains incomplete. Aside from pre-operative macular detachment and retinotomy, silicone oil may be a contributing factor.
In this prospective study, 57 patients were enrolled and recruited; one eye underwent PPV for RRD, and the other served as a healthy control. No patients with an epiretinal membrane were included. The patients enrolled were divided into 3 groups, receiving either sulfur hexafluoride (SF6) endotamponade, perfluoropropane gas (C3F8), or silicone oil. Patients were examined in several follow-up visits and were imaged with spectral domain optical coherence tomography (SD-OCT).
The results showed that there was significant less visual function in the group that received silicone oil compared to the SF6 group on all follow-up visits. In addition, there was a significant decrease of the thickness of the GCL-IPL (ganglion cell player-inner plexiform layer) thickness, as well as other associated parameters.
The effects of silicone oil on the anterior segment of the eye, such as cataract, glaucoma, and keratopathy has been documented in other studies. While decreased thickness of the GCL-IPL is associated with glaucoma, a larger group of patients is necessary to evaluate the conclusions of this research.
Raczyńska, D., Mitrosz, K., Raczyńska, K., & Glasner, L. (2018). The Influence of Silicone Oil on the Ganglion Cell Complex After Pars Plana Vitrectomy for Rhegmatogenous Retinal Detachment. Current Pharmaceutical Design, 24(29), 3476-3493. doi: 10.2174/1381612824666180813115438